Board of Advisors
In addition to surveying members and prominent figures representing many modalities in the bodywork and mind-body community, NAMASTA uses quality outside talent to advise in strategic direction. The services delivered to members keep with NAMASTA ethics. NAMASTA is extremely proud to have the following people on its Board of Advisors:

Annalisa Cunningham, M.A. (Counseling) brings her great experience of retreats to NAMASTA. Her love of travel, yoga, and healing have inspired her authoritative books on yoga retreats.
Annalisa has been a certified hatha yoga instructor for more than 25 years and is also a trained massage therapist. She offers annual yoga vacations in Mexico, Costa Rica, Hawaii, and Northern California: www.openingheartjourneys.com. Annalisa also writes articles for various magazines including Healing Lifestyles & Spas magazine.
Annalisa offers a new course on How To Organize A Successful Retreat distributed exclusively by NAMASTA.
Here is a selection of books on yoga retreats Annalisa has written:
Yoga Vacations: A Guide to International Yoga Retreats
Spa Vacations: Your Guide to Healing Centers and Retreats
Stretch & Surrender: A Guide to Yoga, Health and Relaxation for People in Recovery
Gentle Yoga for Healing: Mind, Body, Spirit

Nicola Conraths-Lange is a Pilates teacher, studio owner and book author. Her initial training was at the Rome Ballet School and at the London Studio Centre. After suffering a severe lower back injury, her dance career came to a stop and she pursued a Bachelor and Master's degree in communication. At the same time Pilates came into her life, and amazed at the impact it had on her still hurting body, she decided to certify as a Pilates instructor on mat, reformer and Cadillac, chair and barrels as well as the new BOSU.
Niki now is an instructor teacher for Carolyne Anthony's Center for Women's Fitness, specializing in prenatal and postpartum rehabilitation programs. Niki specializes in the communication aspect of movement related instruction. Her company, Logokinesis, offers workshops, counseling and teaching advice for teachers in Europe and the United States.
Her first book "Survival Skills for Pilates Teachers: Thriving in the Mind-Body Fitness World" is centered around aspects of healthy teaching. Her second book, Pilates Space helps Pilates teachers start and run Pilates studios successfully. She regularly presents at national and international Pilates and Dance Medicine conferences and published in academic and non-academic journals.
Niki currently lives and teaches in Ann Arbor, Michigan, owns and operates a Pilates studio and is an adjunct Professor for Dance and Pilates at Wayne State University.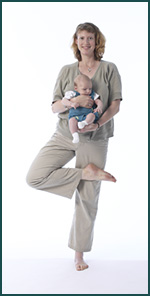 Lisa Slede, LMFT, MBA, initiated the idea of NAMASTA and brings mind-body and business expertise to the organization.
Lisa is a yoga instructor certified in Integrative Yoga Therapy and a practicing psychotherapist based near San Francisco working within a non-profit and local government setting.
As a former corporate trainer, she has also conducted Stanford University MBA workshops, including a stress management workshop that incorporates yoga techniques.
Lisa published an article on yoga and psychotherapy in the International Journal of Yoga Therapy.
Photo credit: Peter Fox