Affordable Website Design
Do I need a website? Do I need to update my website?
Are you looking to design a web site?
Nowadays, a professional web site design is something that any business (including bodyworkers, yoga, Tai Chi, Pilates studios, independent teachers and retreats) can't afford not to have.
So many people like you do their research online and the impression they get from your web presence may be the determining factor in whether they choose to become your client.
How a Yoga Studio Owner Designed her Own Site for only $5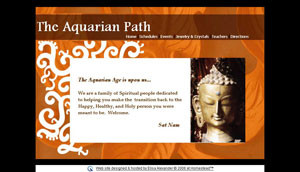 One of the great ways to promote yourself and your business is to have a website. NAMASTA member Elisa Alexander, CEO of Zen Nutrition and Owner of The Aquarian Path, Center for Body, Mind & Spirit in Norwalk, CT, did just this.
Elisa says : "My center opened in March 2008 and I had to overcome many obstacles along the way to see my dream of opening my studio come to fruition. One of the more daunting tasks has been to educate myself on ways of networking and marketing. Perhaps the best decision I have made is to design a website for my business".
Yes, but isn't that something you usually leave to experts?
To that, Elisa responds:
"Having little experience with technology I was amazed at how easy it is to secure a domain name and design a website. I highly recommend using a Website-design company that provides step-by-step instructions and support, as opposed to hiring someone to do it for you. If you are like me, there is no shortage of places to spend money while opening a new business."
Elisa did this through an online service that has hundreds of website templates to choose from. All you have to do is supply your own text and photos and the rest you can build yourself step-by-step.
Says Elisa: "By designing my own site, I have saved money, empowered myself to make my own website choices and am learning (at my own pace) about on-line marketing possibilities."
You too can design your site with no prior experience. To take the next step, enjoy a free one-month trial that's available for a limited time only – and the cost is only $7.99/month after, which includes website hosting. To get started, try setting up and designing your website now.