Massage Business Success Tips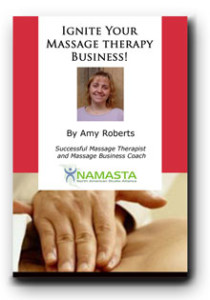 Does your massage business not have enough clients?
Just starting out and don't know where to get your first client?
Or are you an experienced professional therapist with wear and tear issues?
Then you should be interested in a method to help your massage business be successful.
The massage therapy business book was written by a highly successful massage therapist who shares her recipes for building and growing your bodywork practice. The book reveals:
three techniques to chart the success of your therapy business
the hidden financial risks in practicing massage therapy
the mindset of the most successful massage therapists in the world
key pricing tips
the secret of gaining years of experience in just one hour. This short cut will save years of stress
how to get clients to call immediately
how to build absolute credibility even if you have just graduated!
how to get all the clients you need
the secret client booking technique to use when you are busy
the single most important asset in your massage practice – not 1% of therapists know this
This practical book saves you hundreds of dollars of mistakes, marketing training and consultant's fees. It also tells you:
what to never, ever do when advertising your practice
the pre-greeting client ritual which makes clients feel immediately comfortable – this insider tip is gold
why targeting your market as a bodyworker is vital to the growth of your business – yes, there are many target markets for massage therapy
know the surprising first thing that clients notice about you so you can make them come back
and much more