Press release: Special Discount for NQA members
How Do Tai Chi and Qigong Professionals Achieve Greater Balance?
– An Alliance Between NAMASTA and the NQA Provides Answers
Many practitioners in the Chinese health care system are very concerned with their insurance coverage and marketing needs. Now Tai Chi and Qigong professionals can achieve greater protection, support, and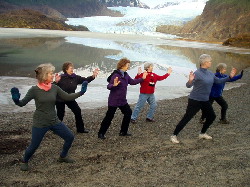 savings through a new alliance between NAMASTA and the NQA.
On the last day of the 10th Annual Conference of the National Qigong Association, Michael DeMolina, its Chairman, and Bernard Slede, President of NAMASTA, announced the signing of an agreement between NAMASTA, the fastest growing membership organization for mind-body professionals in the USA and the NQA, the umbrella organization of Qigong enthusiasts that work together to promote Qigong in America.
"We are excited to offer our members discounted access to NAMASTA" said Michael DeMolina. "And we feel this is an important step toward furthering our support of Qigong in America."
Bernard Slede, President of NAMASTA, added "We are honored to have established a relationship with the NQA; it will allow us to touch the lives of even more Tai Chi and Qigong practitioners."
The special rate on new NAMASTA memberships requires a current NQA membership. Members of NAMASTA can access health care benefits, qigong liability insurance, reduced rates on business software, and many other benefits.
Dr. Roger Jahnke, OMD, author of many books on Qigong, one of the founders of the NQA, and former Chairperson of its Board of Directors, commented that "NAMASTA meets an important need. As NQA professional members seek resources to build and sustain their businesses, it is a great support to have access to services that are pre-screened for value and fee discounts – in a high integrity context."
Annalisa Cunningham, author of several authoritative books on wellness, added that "NAMASTA is an organization I recommend to any mind-body professional who wants support, along with time-saving tools for building a successful business."
NAMASTA's mission is to give mind-body professionals the peace of mind to focus on their discipline – whether it is Qigong, Tai Chi or other healing arts. To that end, NAMASTA offers critical business services such as access to low-cost liability insurance, an alternative health care benefit, health insurance, member rates on marketing services and free mentoring for members.
The NATIONAL QIGONG ASSOCIATION is a democratic, grass roots association that supports all the schools, traditions, teaching styles, and philosophies of Qigong, as well as those in the scientific community who are researching the benefits of Qigong. Qigong is a Chinese health care system that integrates physical postures, breathing techniques and focused intention. For more information on the NQA, please visit www.nqa.org.
For more information on NAMASTA, visit www.namasta.com or call toll-free 1-877-626-2782 (1-877-NAMASTA).
Photo credit: World Tai Chi and Qigong Day
###